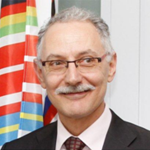 Kostas Glinos has been with the European Commission since 1992. He leads the "Strategy, EFTA and enlargement countries, Russia, Asia and Pacific" unit within the directorate in charge of International Cooperation of the Directorate General for Research and Innovation.
Before that he was in charge of the e-Infrastructures unit of the Directorate General for Information Society and Media from January 2009 to December 2013. From 2003 to 2008 he was Head of the Embedded Systems and Control unit and interim Executive Director of the ARTEMIS Joint Undertaking.
Previously he was deputy head of Future and Emerging Technologies. Before joining the Commission Kostas worked with multinational companies and research institutes in the U.S., Greece and Belgium.
He holds a diploma in Chemical Engineering from the University of Thessaloniki, a PhD from the University of Massachusetts and a MBA in investment management from Drexel University.