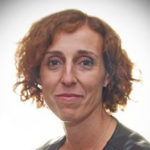 Marta Truco Calbet is an expert on European research and innovation policies and programmes. With more than 15 years of working experience in Brussels, she has developed expertise in supporting and developing research and innovation strategies at institutional, regional and European level as well as programme management and implementation.
From 2001 to 2009 she worked for the European Commission as a programme and policy officer. Working for DG Employment and Social Affairs and DG Research and Innovation she was responsible, among others, of following up the implementation of structural funds in Spain, supporting the coordination of EU Member States research policies towards the 3% Barcelona target, following up the research part of the National Reform Programmes within the Lisbon Strategy and contributing to the screening exercise of Chapter 25 –science and research- in Turkey within the accession process.
From 2009 to 2014 she worked as a Director of the Brussels based office of A4U supporting leading Spanish universities in their participation in European research and innovation policies, programmes and initiatives.
Marta has also working experience in Turkey. She worked for the Delegation of the European Commission to Turkey from 1998 to 2000 and since January 2015 is collaborating with Middle East Technical University in building up an ERA and H2020 strategy development.
As an advisor for a number of institutions, Marta is also an evaluator of FP7/H2020 calls for proposals and acting as independent expert for the European Commission Regional Policy in the implementation of the 2014-2020 Structural Funds programming period.
Marta holds a Law degree from Universitat de Barcelona and a specialization in EU and International Law by Sheffield University. Marta is a native speaker of Spanish and Catalan, fluently speaks English and French and has a good command of Turkish.