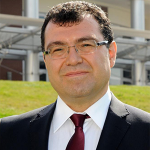 Prof. Dr. Hasan Mandal (CoHe, Executive Board Member)
Hasan Mandal (Prof. Dr.) received his BSc from Middle East Technical University (Turkey) in 1987 and PhD from University of Newcastle (UK) in 1992. In the period of 2007-2008, Dr. Mandal was at Karlsruhe University as Alexander von Humboldt Fellow.
In 1996, he joined the Department of Ceramic Engineering at Anadolu University. He became the Head of Department (1999), Dean of the Faculty of Engineering (2004), Chairperson of Turkish Engineering Deans Council (2006), Vice Rector of Anadolu University (2010), Chairperson of Global Engineering Deans Council (2009), The First Vice President of the International Federation of Engineering Education Societies (2009-2011), Vice President and Director of Research and Graduate Policies at Sabanci University/Istanbul (2011-2015).
He was also served as the Coordinator of European Higher Education Area (EHEA) Advisory Board, the Board Member in Gebze Technopark, Inovent, Vice President of University-Industry Collaboration Centers Platform (USIMP), Board Member of TUBITAK – TTO Group. He is currently member of World Academy of Ceramics.
He has co-authored over a hundred publications and three patents. Because of these achievements, he was honored by twenty awards including TUBITAK Science Award and European Ceramic Society, Stuijts Award.
He is currently serving as Executive Board Member of Council of Higher Education (CoHE), BFUG Member for Turkey, EUA Representative for CoHE, Coordinator of University-Industry Collaboration Commission of CoHE. He is also member of Board of Trustees of METU Prof. Dr. Mustafa N. Parlar Foundation.
ROLE OF HUMAN RESOURCES AS AN EMERGING ECONOMY COUNTRY
Prof. Dr. Hasan Mandal
Member of Executive Board, The Council of Higher Education of Turkey
The goal of Turkey, remaining among the rapidly developing economies, is to be one of the top ten largest economies in the world by 2023. To accomplish such a goal, it is only possible if drawing attention to high technological products and related processes, which, therefore, depends on that a multilayered structure comprising the processes of basic research – technology development oriented applied research – product development, is operated and developed harmoniously and synergistically. Hence, the most crucial tools are the creation of knowledge (technology) generation ecosystem and the existence as well as development of human resource to generate knowledge in this ecosystem. In this presentation, higher education-oriented country policies are going to be dealt with considering this purpose.