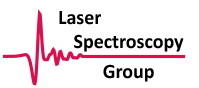 Molecular understanding to new discoveries
1) Arik et al. "A new method for alcohol content determination of fuel oils by terahertz spectroscopy", presented at the 38th International Conference on Infrared, Millimeter, and Terahertz Waves (2013).
2) Badan et al. "Microwave-assisted synthesis of Eu3+ doped lanthanum orthoborates, their characterizations and luminescent properties". Solid State Sciences, 14, 1710-1716 (2012).
3) Lane et al. "Photoexcitation Dynamics in Films of C60 and Zn Phthalocyanine with a Layered Nanostructure". Phys. Rev. Lett. 108, 077402 (2012).
4) Esenturk et al. "Ultrafast Photoinduced Carrier Dynamics of Organic Semiconductors Measured by Time-Resolved Terahertz Spectroscopy" Organic Thin Films for Photonic Applications,
Chapter 17, 241-254 (2010).
For full list of publications, click here.
Our interest is on understanding the molecular structure role on the properties of materials, either at surfaces or in the bulk, using spectroscopy. A better understanding of system properties and effect of molecular structure on these properties will enable us either to design very unique ones or to modify and produce systems and technologies that are superior to the originals.
Current Projects;
- Noncontact conductivity measurements of organic semiconductors to determine their efficiency or mobility via spectroscopy
- Determination of illegal fuel blending with Terahertz Spectroscopy
- Counterfeit medicinal drugs analysis with Terahertz Spectroscopy
- Fiber Ring Down Spectroscopy for trace chemical detection via remote sensing
We employ linear and non-linear optical spectroscopic techniques such as terahertz and sum-frequency generation spectroscopy. In addition we employ optical pump and optical probe techniques in order to follow dynamical events.
We always welcome post docs, graduate and undergraduate students having interesting ideas in the scope of our research.
Samet joined to the group as a graduate student.
Positions Avaliable;
1) Postdoctoral Fellow: Looking for a trained, skilled, independent and creative postdoctoral fellow who can think outside the box. For more information please click here.
2) Graduate Student: Looking for a motivated, hardworking, enthusiastic, graduate student (Master or Doctorate) for a newly funded project.
3) Undergraduate Student: Several tasks are available for undergrads in the scope of our current projects.
For detailed information click here.
Copyright © 2014. Laser Spectroscopy Group Website
All rights reserved.
Designed by Enis Arık