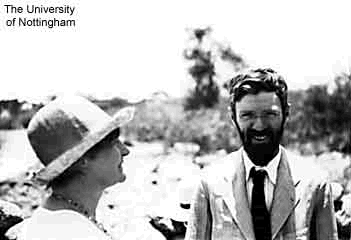 Lawrence and Freida
D. H. Lawrence and His Works was the theme of the 11th METU British Novelists Seminar, held on 18-19 December 2003.
The guest speaker was Peter Preston and the papers have been published in the Proceedings.
Contents of the Proceedings are given below. The volume may be obtained from the Department of Foreign Language, METU.
CONTENTS:
Peter Preston. "Presence and Absence: Lawrence in British Culture."
Peter Preston. "Beyond the 'Usual Plan': Reading Fiction in Lawrence's Fiction."
Margaret J-M Sonmez. "D.H. Lawrence's Language of Real Men? Style and Dialect Shifting in The White Peacock and Lady Chatterley's Lover."
Nebile Direkcigil. "Translating Studies in Classic American Literature."
Gulbun Onur. "Theatrical Aspects in Sons and Lovers."
Arda Arikan "Preparing Pre-reading Questions via Students' Papers: 'The Rocking Horse Winner' in an EFL Teaching Education Program."
Alan Freeman. "Radical or Reactionary? Lawrence and Individual Freedom."
Gillian M. E. Alban. "The Serpentine Under the Moon in D. H. Lawrence: Nature and Myth in a Highly Wrought Synthesis."
Neslihan Ekmekcioglu. "Symbolic Reflections of Light and Darkness in D. H. Lawrence's The Rainbow and Women in Love."
Nurten Birlik. "The Return of the Repressed in 'The Last Laugh', a Lacanian Analysis."
Seda Peksen. "Is the Idea of Resurrection into a Better, New Life in Lawrence's Last Poems an Attempt at Escapism by a Man Who is Close to Death?"
Fiona Tomkinson. "'The speckled leopard': self and self-attestation in D. H. Lawrence."
A. Clare Brandabur. "Lawrence's Response to Ancient Art and Ritual: Folklore, Sculpture and Architecture in The Rainbow."